Roy Carruthers

Biography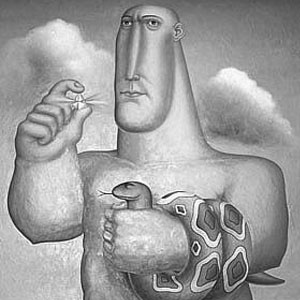 Roy Carruthers (South African, 1938–2013)
Browse Roy Carruthers Catalogue Raisonnés Online.
Born in Port Elizabeth, South Africa. Education: Technical Col of Art School, Port Elizabeth, South Africa, 1956. Teaching: School of Visual Arts, NY, 1975. Awards: Am Inst of Graphic Art, 1973; Gold Medal Soc of Illustrators, 1973. Collections: Ulrich Mus, Wichita State Univ, Wichita, KS; Weatherspoon Art Gallery, Univ of North Carolina, Greensboro, NC; Univ of Wyoming, Laramie, WY; Ponce Mus, Ponce, Puerto Rico. Printers: Editions Press, San Francisco, CA (EP)(OB)
This exhibition of recent paintings by Roy Carruthers is a celebration of sorts. It marks the artist's return to a career in painting after a 15-year absence. We gratefully welcome him back, especially since, on the threshold of the millennium, contemporary art stands at a crossroads. Most of the 1990's has witnessed an onslaught of pornographic, scatalogical and sacrilegious acts mounted as groundbreaking avant-garde art and vaunted seriously by its proponents in the art world. The public, however, is crying "enough!". At this writing, the media are widely reporting the retaliation of one citizen here who emptied a load of cow manure on the steps of the Tate Gallery in his tirade against not only the winner of this year's Turner Prize, an artist known to adorn his paintings with elephant dung from the London Zoo, but also the inclusion of pickled sheep and cows in the work of still another artist. Clearly, society needs to move beyond art works that stand only as hollow vehicles for shock value. We are yearning for art that can amuse, perplex and touch us deeply. So it is with excitement (and relief) that we encounter Carruthers's work. His remarkable reproportioning of human anatomy, ambiguous situations and gem-like color entreat us to enter a world where we will be richly rewarded.
PIERS JOHNSTON DIRECTOR, ALBERMARLE GALLERY LONDON, DECEMBER 1998