René Magritte

Biography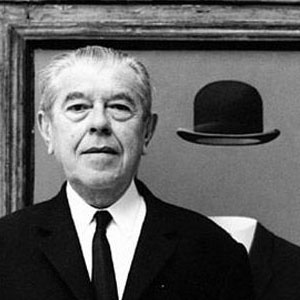 René Magritte was a Belgian surrealist artist whose witty and thought-provoking images challenged observers' preconditioned perceptions of reality.  Magritte's work frequently displays a juxtaposition of ordinary objects in an unusual context, giving new meanings to familiar things.
Magritte grew up in a simple and somewhat tragic household.  His father was a modest tailor.  His mother, who was mentally unsound, committed suicide in the year 1912. He started drawing at a young age, and the first of Magritte's paintings, produced c. 1915, were Impressionistic in style.
Magritte first worked as a draughtsman in a wallpaper factory and, in the year 1922, fell in love with and married Georgette Berger. In 1926, Magritte signed a contract with Galerie La Centaure in Brussels, making it possible for him to paint full-time.  During this time, inspired by his friend André Breton, he became involved with the Surrealist group.
During the German occupation of Belgium in World War II, he stayed in Brussels. He continued to paint, gaining increased recognition.  His work was exhibited in the United States in New York multiple times, including 2 retrospective exhibitions at the Museum of Modern Art and the Metropolitan Museum of Art.  In 1967, Magritte died of pancreatic cancer, his imagery having greatly influenced pop, minimalist, and conceptual art.
MAGRITTE LITHOGRAPHS
René Magritte began printmaking at the age of 62, during his most mature years as an artist. All of his original lithographs were completed within the last 8 years of his artistic career. The most inclusive catalogue raisonné of his Magritte's prints is the Kaplan and Baum The Graphic Work of René Magritte. Within the catalogue, only 20 printed works are listed. All the prints were initiated or completed in Magritte's lifetime. His lithographs share many of the same imagery and themes as his surreal paintings. While every lithograph was conceived by the artist himself, the prints fall into two different categories. In one, the works were drawn by the artist himself. And in the second scenario, the works were drawn by printmakers according to the artist's original compositions. Oftentimes, Magritte's original paintings are also reproduced as limited edition lithographs. These editions are usually high in technical quality and also certified by Magritte's estate.
Two of Magritte's most famous paintings,  Le fils de l'homme (The Son of Man) and Les Amants (The Lovers) were printed as lithographs. René Magritte Le fils de l'homme (The Son of Man) was initially intended as a portrait of friend Harry Torczyner, but evolved to hide (or reveal) the nature of Torczyner's true identity.  The apple, conveniently located over the man in the bowler cap's face, denies the viewer a glimpse at his true identity.
Of this work Magritte states, "I paint only the visible.  It would be wrong therefore to look for the invisible… In it you can see a man with a face, which is something visible.  You can also see an apple which is itself visible.  However, there comes a time when one visible thing prevents you from seeing another." (Whitman, no. 124)
Les Amants (The Lovers) is arguably one of Magritte's most recognizable images, with a couple pictured together with white swaths of cloth covering their faces. The work portrays a sense of melancholy that is often present in love and hard to express. Magritte shows the viewer the sweetness of romance along with the reminder of the ephemeral nature of love itself. White veils such as the ones pictured are often signals of death in the history of art, as they were and still are used to drape over dead bodies. Magritte effortlessly combines contradictory elements in Les Amants (The Lovers) and the work is a true showing of his imagination and artistic prowess.
MAGRITTE SCULPTURES
René Magritte's decision to create sculpture in his mature years sprang from a conversation with his dealer Alexander Lolas. Lolas suggested that Magritte create a group of sculptures based on his wide array of paintings. In 1967, Magritte created 8 bronze sculptures which were casted in a foundry in Verona , Italy. For each sculpture, he carefully created the sketches which would be the basis of the wax casts. The sculptures were titled after the paintings that inspired their subjects. The titles are as follows:La Giaconda, Delusions of Grandeur, The Healer, Madame Récamier, The Labours of Alexander, Natural Graces, The Well of Truth and The White Race. Although he passed in 1967 before the sculptures were cast in bronze, he signed the wax models and saw the first proofs for each sculpture. The sculptures were first exhibited in Brussels in the Isy Brachot Gallery in 1968.
MAGRITTE PAINTINGS
René Magritte's earliest paintings date from 1915 and were Impressionistic. From 1916-1918, he studied at the Academie Royale des Beaux Arts in Brussels, but found the traditional style of lacking. Thereafter, he became influenced by Futurism and Cubism, painting predominantly female nudes until 1924. Magritte produced his first surreal painting, The Lost Jockey (Le Jockey Perdu) in 1926. This naturally led to a friendship with Andre Breton and the surrealist group. His paintings can be classified into two periods. The first period, titled the Renoir period, started in 1943 when Magritte painted in a colorful, painterly style. An example is the painting Black Magic, 1945. His second period is titled the Vache period. An example of a work from this period is The Cicerone, 1947. Overall, Magritte's surreal paintings maintain a deadpan delivery alongside a clear cut subject matter. Repetition is also important, many subjects reappear in various paintings either as the focal point or a subtle background detail. Magritte paintings continue to command high prices in they do extremely well on the market. In 2012, his painting Les Jours Gigantesques, 1928, fetched $11.3 million dollars at a Christie's auction.